The Christmas tree may be the most significant symbol of Christmas. It is the highlight of the Christmas decorations for most homes.
Most histories of Christmas trees  go back to German traditions in the 1800s.
But also many of our Christmas traditions have pagan origins. According to an eighth century legend Saint Boniface was the creator of the very first Christmas tree. Saint Boniface, an English monk was sent into Germany as a missionary, with an aim of converting the pagans to Christianity. Around the time of Winter Solstice, he was said to have come across a group of pagans worshipping an old oak tree. There was to be a sacrifice to the god Thor.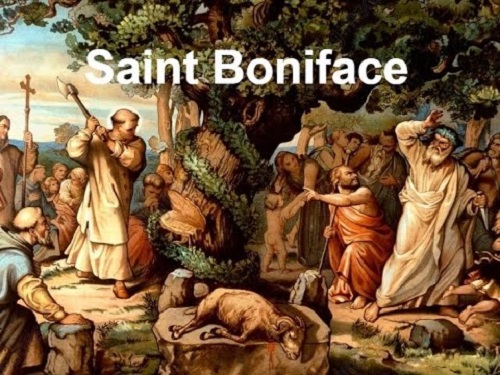 Some versions of the legend say that the all-action St. Boniface grabbed the nearest axe and hacked down the tree; others tell of the power of his staff crushing the pagans hammer. 
Some say St Boniface planted a fir tree there, but the most common idea is that a fir tree grew spontaneously in the oak's place.
According to the myth, the next year all the pagans in the area had been converted to Christianity and hung decorations from the tree to celebrate what they now called Christmas rather than Winter Solstice.
There are many accounts of the German royalty starting this tradition of bringing a evergreen tree in their home at Christmas.  Anything that catches the royal eye often gains attention from the general public. It spread to Britain when there was a cross-cultural marriage of a Brit and a German in the 1800s.

The Christmas tree may have spread to North America before this. In the winter of 1781 German soldiers at a garrison in Quebec were treated to a Christmas party by their general . Accounts tell of a fir tree decorated with candles and fruits.
By all accounts, by the 1870s, putting up a Christmas tree had become very common in America.
Several cities in the United States with German connections lay claim to that country's first Christmas tree.
The Christmas tree stood for the first time in Vatican in 1982.
The German translation  'Tannebuam' as 'Christmas Tree' was wrong - it  is just a fir tree. 
"Oh Christmas tree, Oh Christmas tree!
Thy leaves are so unchanging
Not only green when summer's here,
But also when it's cold and drear.
Such pleasure do you bring me!
For every year this Christmas tree,
Brings to us such joy and glee.
A symbol of goodwill and love
Each shining light
Each silver bell
No one alive spreads cheer so well
Oh Christmas tree, Oh Christmas tree,
You'll ever be unchanging."
I believe there is a real love of trees and recognition of their spirit.  I highly recommend reading over the holidays, the book by German author and forester, Peter Wohlleben The Hidden Life of Trees: What they Feel, How they Communicate: Discoveries from a Secret World.
Here are a few interesting historical Christmas tree tidbits.
After the signing of the Armistice in 1918 the city of Manchester sent a tree, and £500 to buy chocolate and cakes, for the children of the much-bombarded town of Lille in northern France.
Boston receives a Christmas tree from Nova Scotia, in thanks for rapid deployment of supplies and rescuers to the 1917 ammunition ship explosion that leveled the city of Halifax
Anti-German sentiment after World War I briefly reduced their popularity but the effect was short-lived, and by the mid-1920s the use of Christmas trees had spread to all classes.
In Russia, the Christmas tree was banned after the October Revolution, but then reinstated as a New-year spruce  in 1935, and is part of the New Year holiday.
So we've been putting up Christmas trees for a long time.  There are many ideas as to when they should go up each year. For some, Christmas trees were not brought in and decorated until Christmas Evefor otheres the tree was brought in at the beginning of the Advent season. Many Americans will put up a Christmas tree after their Thanksgiving.
So when do you take them down.  Some traditions have you take them down after the 12th Night (January 5).  There is also the tradition of leaving the tree up until Candlemas – Feb. 2nd.   I think this year we should leave the tree up until then!
So should it be a real or artificial tree.
A real tree would be an evergreen.  A fir tree is considered best.  It keeps it's needless and colour well, and it is not as prickly as pine.  Hemlocks don't do a good job of holding the ornaments.

Going out into the woods is not a good idea unless you have a 1000 acre forest. 
Christmas trees are grown well on tree farms.  On average, the trees are about 10 years old when harvested.
Most municipalities now collect the trees in January to be made into mulch.  If you have a place in your yard, it makes good wildlife habitat.
About 60% of homes have artificial trees.  They are convenient, cheaper, and non-allergenic.  (Yes, my husband broke out in a rash when I once insisted on a real tree!)
The first artificial Christmas trees were developed in Germany in the 19th century, in response to deforestation. They were made of goose feathers, dyed green.
The aluminum Christmas tree was a sixties fad.   "A Charlie Brown Christmas" first aired on TV in 1965 and was seen to be taking a dig at aluminum trees were popular.  This classic show has been asking us to focus, not only to the original evergreen, but the true meaning of Christmas.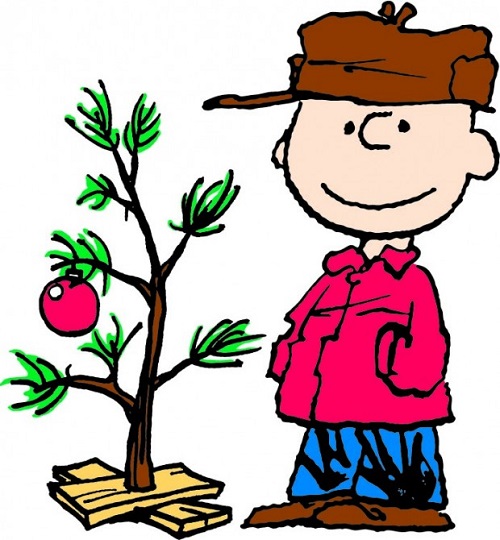 Most modern artificial Christmas trees are now made from PVC, and not readily recyclable.

As a reaction to dealing with this pandemic, a wine bottle tree may be appropriate this year.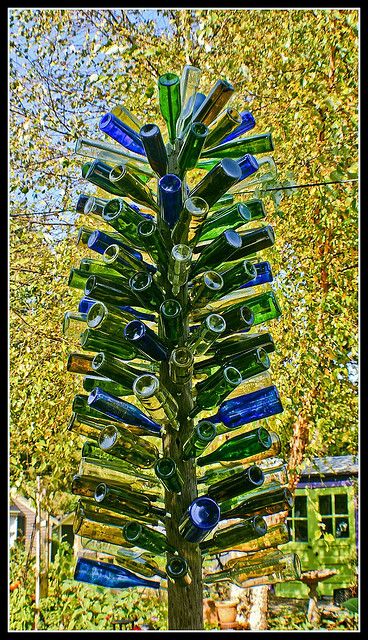 So, what about decorating our Christmas trees?  That is tomorrow's topic!