A Christmas tree is not a Christmas tree without decorations.
There are some interesting stories of these decorations.
The tradition of decorating a Christmas tree is said to go back to 16th century Germany. These  may have been referred to as Paradise Trees, decorated with apples, the forbidden fruit of Paradise. The red Christmas balls now used may represent these apples hanging on the sacred branches of sacred trees.
Martin Luther, the 16th century German religious reformer, is credited with being the first person to put candles on a Christmas tree. He was inspired to do it after seeing stars twinkling through evergreen trees.
Jump ahead two centuries and Edward H. Johnson, vice president of the Edison Electric Light Company, electrically illuminated his tree in NYC in 1882, dubbing him the "Father of Electric Christmas Tree Lights."
Christmas ornaments have been big business for a long time!! In the United States, the Woolworth storees were selling $25 million in ornaments annually back in 1890.
A new ornament for me is the Christmas Pickle. Last year I bought one at the Christmas Market in the Distillery District. (I do collect green glass, so I needed this one!)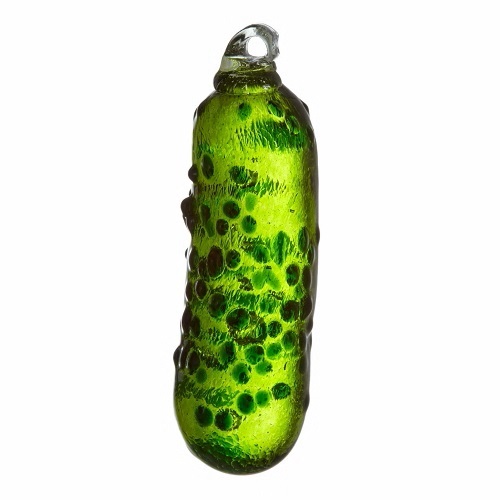 The original would have been of a traditional glass style.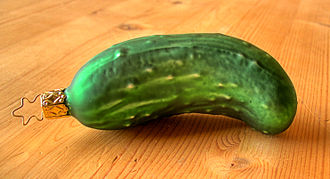 The story I had heard, and came with my pickle, is that they are part of a  German tradition.  The parents hide the pickle deep in the branches of the tree on Christmas Eve. On Christmas morning the child who found it first would receive a special gift from St. Nicholas.
An American Christmas Ornament historian, Jodi Pritzl,  has published this book, Immigrants, Ornaments and Legacies — A Story of American Made Glass Christmas Ornaments" (2019) (I'm waiting for Amazon to deliver it).  She concludes that the myth was probably created by a savvy marketing person to sell ornaments. She's done her homework.
At the turn of the 20th century, there were more than a hundred small glass-blowing workshops in Europe that exclusively made ornaments. But while other traditions are easily documented, there are no records of the production of pickle ornaments and no account of the legend in Germany.
Also, in Germany, St. Nicholas doesn't come on Christmas Eve but rather December 5 or 6.
German children do not open presents on Christmas morning like many Americans do. They unwrap theirs on Christmas Eve.
She does accept that the mid-1800s decorations could have included a green gherkin pickle, since many of these ornaments were in the shape of fruits, vegetables and nuts.
Today, pickle ornaments are for sale in Germany.  So, this supposed tradition, brought to America by German immigrants, was really the other way around? Regardless, if you do have a pickle ornament on your Christmas tree, I hope it will bring you good luck in the coming year. We need it!
But there are two other stories for the Christmas pickle:
Private John C. Lower but was captured in April 1864 during the American Civil War and taken to the prison camp. As the story is told, on Christmas Eve he begged a guard for a pickle while starving. The guard provided the pickle, which Lower credited for saving his life. After returning to his family, he began a tradition of hiding a pickle on their Christmas tree each year.
Dating to the medieval times, there is a story of St. Nicholas saving two Spanish children who were trapped in a barrel of pickles by a sinister innkeeper. 
Maybe you will like this Christmas Pickle poem, hummed to the tune of "Oh Tannebaum".

Oh, Christmas Pickle Oh, Christmas Pickle,
How noble
are your features
Oh, Christmas Pickle
Oh, Christmas Pickle
they are the best gift
to give your teeech-ers
Ooooooh, wondrous gherkin,
Oh, cherished vine
how saucy is
your salty brine!
There are some other nice stories behind our Christmas tree decorations:
Tinsel
A widow and her family were too poor to decorate their Christmas tree. Spiders that lived in the house took pity on the family and spun beautiful webs all over the tree. When the family woke on Christmas morning, the webs glistened silver and gold. From then on, they never lived in poverty again. This is many times attributed to the origins of tinsel.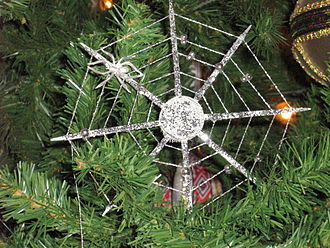 Another interpretation is this metallic decoration symbolizes light and is hung on a Christmas tree to make sure darkness has no power during the holiday season.
Pig
In Germany, it was considered  a sign of wealth and good fortune to have a pig for your family to eat during the long winter months.
It has become a tradition worldwide now to display a pig ornament on Christmas trees with the hope of bringing good fortune in the coming year. There is also the tradition in the US Northeast to smash a peppermint pig , though this is not a tree ornament.  I think we better all put pigs on our Christmas trees this year!
Acorn
The oak tree was sacred to ancient Germans, representing strength and good luck. Many early German Christmas trees were adorned with acorn ornaments as a reminder that great things can come from humble beginnings - that a little acorn becoming the mighty oak.
Star
The crowning star is regarded  as a symbol of Bethlehem Star, but in Russia it is the Red Star on their New Year Tree. And their tree decorations include figurines of airplanes, bicycles, space rockets, cosmonauts, and characters of Russian fairy tales.
My Christmas tree is not a themed tree and would not merit a photo in a magazine.  It is decorated with ornaments that my kids made, friends gave me and from my trips abroad.  It is a memory tree.  I love putting the decorations up each year.
I am tempted to order some of the Christmas ornaments that reflect 2020.