In April, I shared a photo as I started my raised bed garden. You can see from the photo below that it was placed directly on the lawn then the grass was covered with cardboard and paper and topped with good top soil and compost. Of course. instead of cardboard one could use the specialty black fabric sold by nurseries; but, I had boxes and thought it better to recycle by allowing them to compost as the base in my new raised garden.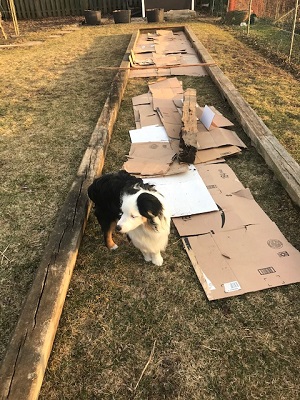 Below are 2 few photos from later summer of what is now my thriving no-dig raised bed garden. From front to back, I have planted basil, Swiss chard, kale (3 varieties) and beans.  In July, I started to see weeds popping up (usually close to the frame), and those got removed immediately with a mini shovel.  Now the harvest has starting, paying me back for all the work I put in to making these raise bed gardens.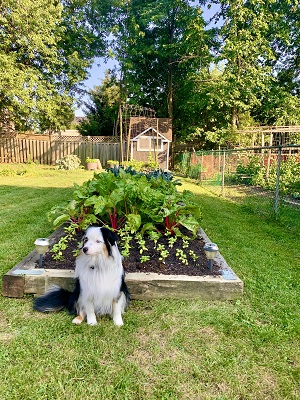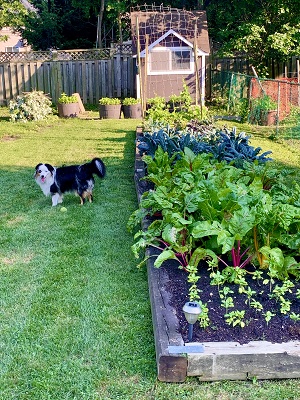 The photo below is my traditional in-ground garden (growing for about 30 years now) running along the side of my property.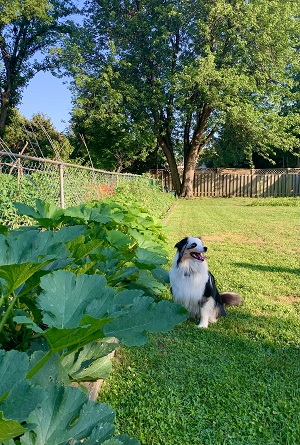 My take away is that as long as your base soil has close to 5% nutrients with living organisms, both in-ground and raised bed gardens will work just fine!  Perhaps next year you may want to make a raised bed yourself!
The lesson to be learned: Work with what you have and enjoy what you grow!