I was just reading the online version of The Old Farmers' Almanac, as one does. There was a list of the best 10 vegetables for beginners. Potatoes didn't make the list! I was shocked and dismayed. For anyone growing food for the first time, may I recommend the humble potato as the perfect choice for anyone digging up garden lawn turf?
Now, I recognize that potatoes take up A LOT of space, definitely not a project for the balcony of a high rise. Being the person I am, I see the plus side of filling a large part of my plot with a crop that is robust, stores all winter, can be eaten several times a week and leaves the soil largely weed free and tilled to a good depth.

As the initial lockdown was in place, I was not optimistic about obtaining certified seed potatoes. Lady Luck shone on me and I actually found some at the Loblaws garden centre while looking (somewhat unsuccessfully) for annual plants for my planters. However, had I been unlucky, I would have planted potatoes from the grocery store.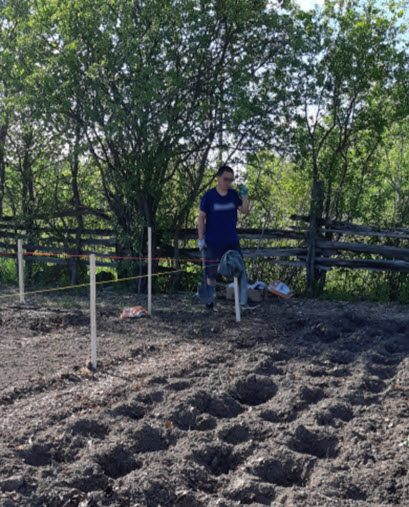 Last year I broke new ground in a former horse grazing paddock where I had been blessed with a new plot in the Forster Collective Community Garden. Potatoes were my vegetable of choice for all the above reasons. I admit that I got mechanical assistance, two passes with a rotary tiller, aka rototiller, to get me started. I COULD HAVE used a spade, but... I then hand removed major rocks and unwanted plant material that had been uprooted. I was taught that soil needs to be as fine as the seed. And seed potatoes are the size of a child's fist- not too fine! (another plus!)
I then used a garden fork to do a rough till to about fork depth (20cm.). That achieved, I made a series of small craters 50cm apart, in rows. Each row was also 50 cm from its neighbour. I dropped one seed potato into each, kicked a little soil to hide the seeds and stood back. As sprouts appeared, I gradually filled in the craters, finally hilling the rows later in the season.  The grid pattern I used to plant the rows, allowed the leaves of the growing plants to form a canopy which controlled weeds germinating and sheltered toads. Too close and they are more likely to get fungus.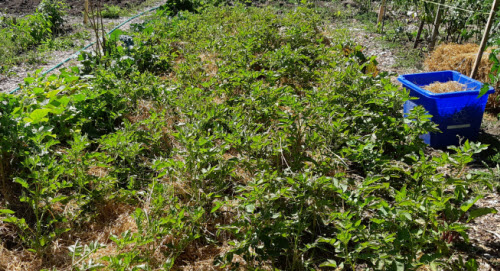 Potatoes also benefit from irrigation. I dutifully trudged to and from the well on biweekly garden visits to ensure a good crop. Despite planting far later than I would have liked, due to all community gardens being closed early in the lockdown, I achieved that goal. I had planted in early June but normally would plant in April.

Harvest begins when the foliage of the potato plant has died off. I began harvesting at the end of September. The skins of the potatoes should be allowed to cure (dry) before storing the potatoes in boxes, or paper sacks such as lawn waste bags. Then these should be stored in airy dark, cool place. (Editor's note: my family had a large metal bucket filled with soil in the cold storage room at the house and vegetables such as potatoes, carrots, and parsnips were layered into the soil ensuring they lasted until spring.)
The result of my hard work? I had a supply of organically grown spuds to last us until Christmas and a plot, largely weed free, nicely tilled to a good depth, all ready for me to get more ambitious this coming spring when I will definitely choose to plant some of the recommendations on the Farmer's Almanac list!
Check out other Gardening Tips from our friends at the Richmond Hill Garden & Horticultural Society