I have been growing food since I "helped" my Dad with his post war allotment in England. My three brothers and I were all allowed a small space to grow flowers, the rest of the space was for potatoes, cabbages, runner beans and onions.
I still grow runner beans, which are sliced and frozen, but most of the space in my chest freezer is taken up by several varieties of bagged tomatoes (I freeze whole cherry tomatoes to use with pasta);  edamame/soy beans (blanch and freeze in the pod) -- great appetizers when warmed up,  with wine, cheese and crackers; spanakopita; and lots of  soup. You can freeze the tomatoes and edamame beans on a cookie sheet for about 6 hours and they'll be individually frozen. Then slide them into freezer bags and when you need them, take out only the amount you need each time.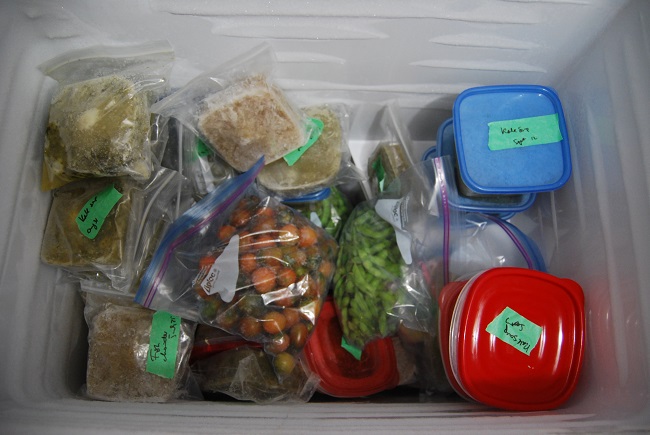 A fellow gardener, Mary, gave me eight kale plants which really pumped up the numbers of soup packages I could make this year.  I save tomato seeds for planting the next year. I buy the other seeds I need online from Vesey's seeds in PEI.
Making the kale soup and the leek soup is very easy.  The older and larger leaves of the kale are for soup and the younger leaves I use in spanakopita instead of spinach (when you buy phyllo pastry for the spanakopita, there is a recipe on the inside of the package.)
KALE SOUP: 
2 large onions
4 large white potatoes
at least 8 large kale leaves
chicken or vegetable stock (I use the low sodium stock, and do not add any salt).
Cook the diced onions in a few spoonful's of oil at a low/medium heat until softened, add the diced potatoes and finely chopped kale, and just cover with water.
Bring to a boil and cook until potatoes are soft.
Add 2 cups of stock. 
*Let the soup cool, then put it through the blender. 
This recipe makes 4 or 5 lots; you can make a less thick soup by adding more stock and thus getting more soup.
Now fill plastic freezer containers ¾ full and stick a label with date on the lid.  Put these in the freezer. You can leave them as is or once the soup is frozen, usually the next morning, you can set the containers in hot water for a few minutes to loosen the soup from the container. Slip the frozen soup block into a medium sized freezer bag and reuse your containers for the next batch of produce, soups, or side dishes to be frozen.
LEEK SOUP
4 large well washed leeks (white and lighter green parts)
4 large potatoes
stock, as above
Cook diced leeks in oil, when soft add diced potatoes, just cover with water and cook until soft.
Add 2 cups of stock.  At this point you can follow the kale soup recipe starting at the * to finish the leek soup and freeze it.
"Growing since the 1940s!"