Let's Explore Richmond Hill is a new feature for OnRichmondhill.com.  There will be weekly articles to encourage you to visit places that you may have only driven by.
The pandemic has restricted us from really travelling.  So, this is an ideal time to explore your own back yard!
The  first place I am suggesting you visit is at Yonge & Hwy 7, the unofficial gateway to Richmond Hill. The Peace Park is on the property of Vishnu Mandir.  There is also a Hindu temple, Museum of Hindu Civilization, a Montessori school, a senior's home, and a 50' golden statue of a monkey god.
 
The Peace Park is separate. "It is NOT a Hindu Park", says the park's curator, Colonel Gerry Nudds.  Anyone can visit anytime, though you may wish to avoid Sunday worship time and Hindu holidays.  See www.vishnumandir.com
The Main Components of the Peace Park
Statue of Mahatma Gandhi.  This nine foot high bronze statue was made in New Dehli, and was unveiled in 1988, 40 years after his death.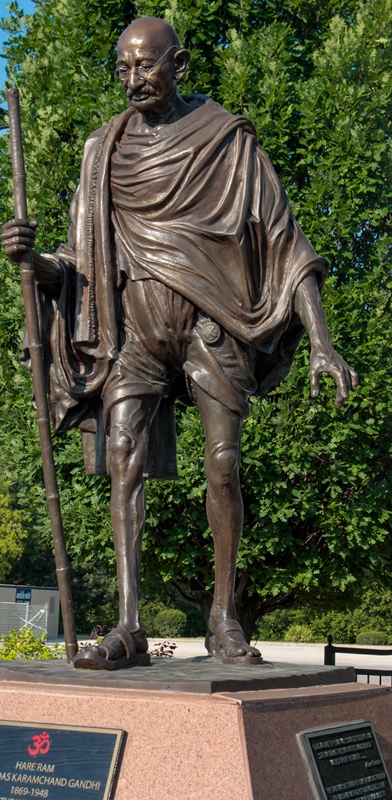 And the park has evolved around it.  Gandhi is unequivocally a man of peace and an icon of non-violence.
Just gazing at him may transfer high moral standards.
Memorial to the Fallen Soldiers. Shaped as a maple leaf, from granite from India, is a monument dedicated to those who have given their lives for our freedom.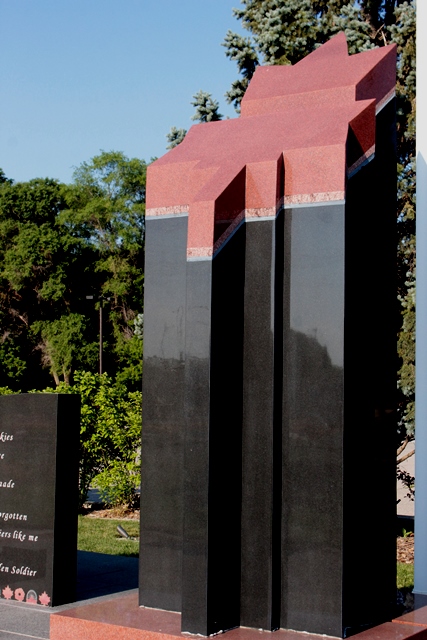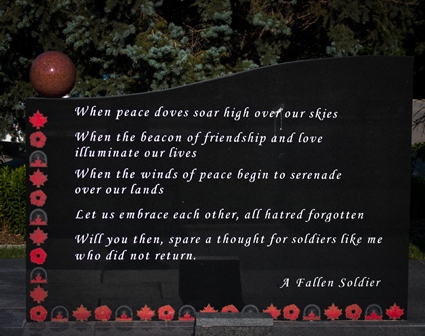 It is a designated National Heritage Monument.
Take note that Gandhi stands to this monument's right. And our Canadian Flag flies above.
Gomukh Fountain – a representation of the sacred Ganges River.  The inscription reads, "There is no way to peace. Peace is the way" See above

Memorial to Nelson Mandela. It was unveiled by a South African ambassador.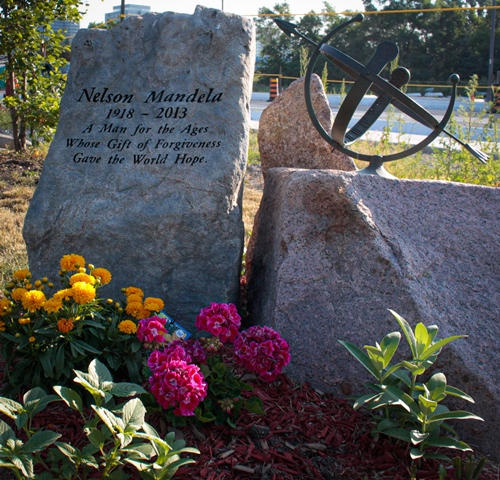 Note the sundial - casting shadows from the sun, and marking the day or way.
Inuksuk. Recognizing the direction given by our native peoples.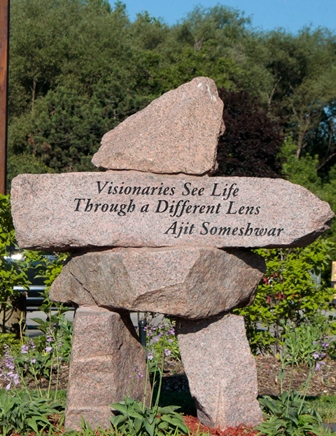 Ponder the quote on this directional symbol.
Statue of Sri Chenmoy – an author, athlete, artist, poet, and musician who taught meditations on the theme of inner peace.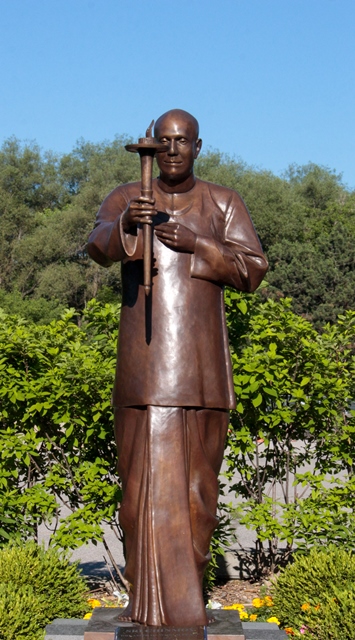 The inscription reads "Dreamer of World Peace"

Children and Peace – a statue of a happy child on a swing.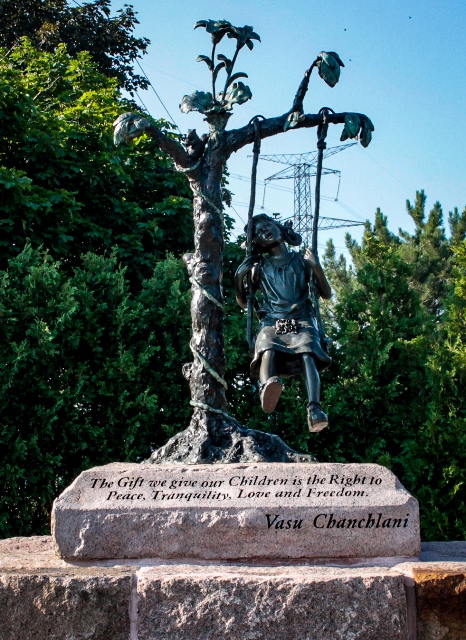 With apt quotes around it.
We are asked to want to have a more peaceful world for our children.

In Flanders Fields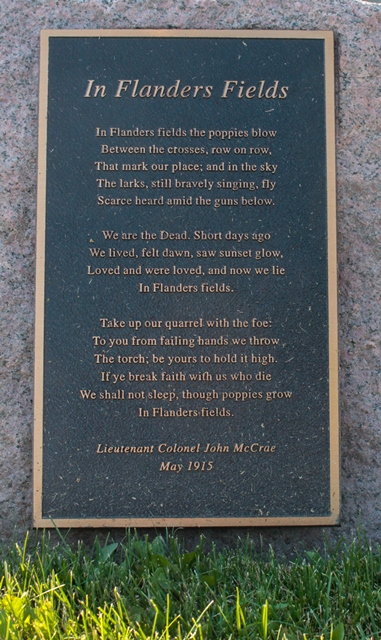 You may wish to sit on the grass and read it.
There are ten nice benches inviting you to stop and sit and ponder.  Shade is lacking - two majestic oak trees do not have a canopy and the maple is too small.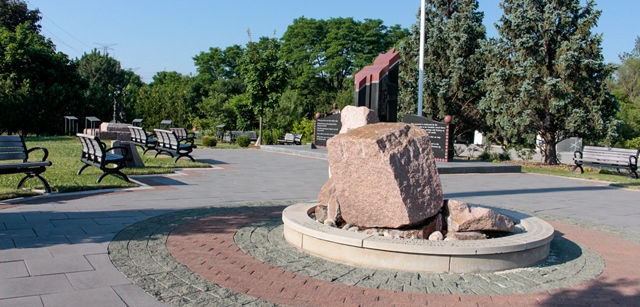 The traffic and construction may distract you.  But so did a bright yellow oriole and a monarch.
Our prime ministers and other dignitaries from many parts of the globe have visited this Peace Park.  Padres for the Royal Canadian Chaplin Service come here to contemplate peace and talk about religion, and walks for peace start and end here.  Bugles and bagpipes are heard to mark Remembrance Day (on the closet Sunday). 
It is a good place to contemplate peace and having peace in your life.
When the construction along Yonge Street is complete a wall and shrubs will muffle the sights and sounds from the traffic. This won't mark the parks completion.  Colonel Nudds is working with an artist from the Mississaugas of the Credit to create an Indigenous themed installation.  It will be a place for ceremony.  And there are plans for a laser light and sound show!  We will be energized to go and create peace!
Covid-19 and construction restrict access to the buildings but one day we will be able to tour the temple and see the Wall of Peace.
Do traverse the parking lot and stare up at the Lord Hanuman statue.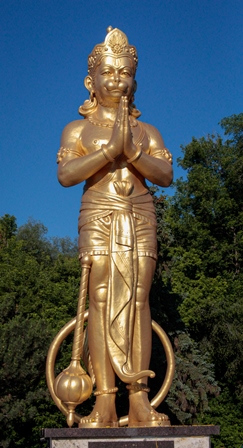 The accompanying plaque reads. "Lord Hanuman overcame the natural inclination of the mind to wander in a meaningless way. There's no quick, easy way to control and achieve a calm mind. And Hanumanji mastered his mind through meditation practices and great concentration on the devine."
This park is very accessible.  It's flat and there are  no steps. There is lots of parking. It can be challenging when leaving, and turning north, to get through traffic coming south.  I have parked at the corner of Yonge Street and Garden Ave, and got a Starbucks coffee and walked there – (30 feet). 

I would like to acknowledge Colonel Nudds for generously giving his time to talk with me. He is proud to be part of the Royal Canadian Chaplin Service. This place has been a labour of love for him. It is a place for a quick retreat for me.