The Coldest Night of the Year (CNOY) is a national event that raises money for the hungry, homeless and hurting. This year the date is February 20th.
CNOY - Richmond Hill is supporting Mosaic Interfaith Out of the Cold (MIOTC) and Blue Door Support Services.
Both organizations provide safe refuge, warm hospitality and emergency shelters, with compassionate support services, to those experiencing homelessness in York Region.
The issue of homelessness in our communities is not always visible, but sadly, it does exist. In York Region, about 1500 children, youth, and adults experience homelessness every day! Homelessness is a complex issue and can affect anyone regardless of age, ethnicity, and social status. But for most, the first step to improving their lives is a warm bed and a hot meal. It is difficult to move beyond if these basics have not been met.
The Impact of the Pandemic.
This year, the need is greater than ever, with homeless individuals being hard hit by COVID restrictions, often meaning reduced access to beds, warm meals and health and social services. 
"The pandemic has been devastating to our region's homeless community. There are fewer beds available at shelters due to social distancing requirements and additional services have been dramatically reduced. We have clients that haven't had a shower since March.  When the Shelter closes at 8 am, our clients have nowhere to go. Some refuse breakfast since they will not be able to access washroom facilities throughout the day. Mental health issues and drug addiction has been soaring amongst this community and they feel forgotten."
Rehana Sumar Founder and Executive Director, Mosaic Interfaith Out of the Cold.  Click HERE to hear her 20 minutes talk
How to Help
Due to the pandemic, the Coldest Night of the Year event will be virtual. Participants can complete their walk with the peole in their housebhold any time during the month of February. Make it fun and know your efforts are for an amazing cause! The local CNOY committee will have a fun on-line event on the 20th and maybe before.  It is a surprise!!
You can have an impact on people's lives and be part of the solution!
There is this opportunity to receive volunteer hours for High Schools Students:
4 hours for registering and completing the walk
4 hours for being a team leader (with 5+ team members)
4 hours for each $150 you raise (Up to a maximum of 12 hrs)
(Maximum of 20 hours available for this event)
Simply register at: www.cnoy.org/location/richmondhill
There is NO registration fee. Please note, the location is Richmond Hill (and not Richmond, British Columbia :) )
Register as soon as possible! Encourage your friends and family to join this important event. Spread the word!!
If you raise $150 you will receive a limited edition 2021 Coldest Night of the Year toque.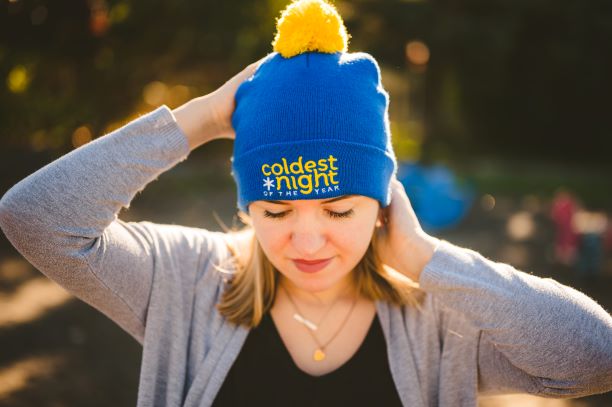 We hope you will learn more about the complex issue of homeless in our communities and be part of the event next year.
To obtain the certification for your volunteer hours it is necessary to contact a CNOY - Richmond Hill committee member.
If you are not contacted by someone on the committee you may contact the committe chair, Marj Andre, at [email protected]