Our library continues on its journey toward becoming a modern community hub for all.
The world is constantly evolving.
Fast-paced technology and innovations in customer experiences are also challenging what we've come to expect from local, community spaces. That's why Richmond Hill Public Library has launched a new brand and website that's inspired by the modern needs and perspectives of our diverse community.
From curated book lists to a friendlier search experience, the refreshed website serves as the fifth branch of the Library. Built with feedback from the Richmond Hill community and relying on the expertise of our team, www.rhpl.ca fosters literacy in its many forms and guides visitors through the Library's vast array of affordable events, lendable items like video games and museum passes, and services like bookable meeting spaces.
This launch is the first phase of a broader approach to creating responsive, digital experiences that better serve the community.
New functionalities will continue to be released within the year and into early 2024.
The new brand, which features a new logo and tagline, is a friendlier, modern reflection of what Richmond Hill Public Library is today. It speaks to the Library's relevance in people's lives at a time of complex changes in the world around us. The tagline "Yes, at the library." breaks free from preconceived notions about libraries as simply quiet rooms filled with books, and invites current and new users to discover RHPL's world of incredible offerings.
"We're challenging our community to reimagine how they perceive us and the different ways we can support them throughout their lives. You would be really surprised to learn about all the amazing experiences we have available for each and every person in Richmond Hill," says Darren Solomon, CEO of Richmond Hill Public Library. "This work is part of our journey to build a welcoming and relevant world-class library system for people that's right around the corner or right at their fingertips for years to come."
The brand pays homage to Richmond Hill's vibrant history. It's a reflection on the natural flora that thrived on these lands before it was called Richmond Hill, as well as the prominent rose industry that once had the town known as "Canada's rose capital."
In the logo, you'll see flower petals that ground the Library in nature, with people icons nestled in between, showing the growing and diverse community coming together.
The square in the middle symbolizes the Library's position as a community hub where people come to connect, learn and grow.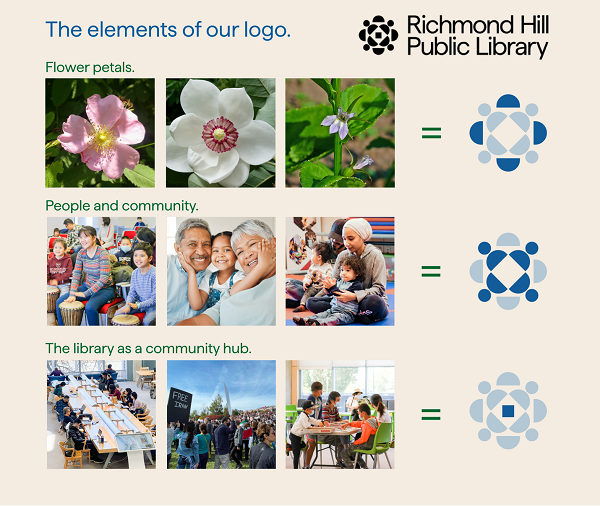 "Richmond Hill Public Library has been the cornerstone of our community for over 170 years and the Library has something for everyone in the community," says Stephen Chait, Board Chair, Richmond Hill Public Library. "The beautiful story of our new brand along with the new website opens doors for more of our community to discover the vast array of services that our engaging library offers."  
You can trade in your current RHPL membership card for a new, branded card at any RHPL branch. 
Check out this 90 second YouTube video:
Click HERE for the full story of the library's new brand.