Jack in the pulpit is an intriguing woodland plant that is native to the Maritimes, southern parts of Quebec and Ontario as well as most of the southern United States. 
It has a growing habit of appearing from shoots off of its underground corms.  The structure that most people call the Jack-in-the-pulpit flower is actually a tall stalk, or spadix, inside the hooded cup (pulpit), or spathe. The true flowers are the tiny, green or yellow-tinged dots that line the spadix. It looks very interesting when the cup (pulpit) is showing off its striped cup. In late summer or fall, the spathe falls off and the flowers give way to decorative wands of bright red berries. The entire structure is surrounded by large, three-lobed leaves that often hide the spathe from view. 
At this time of year – early to mid-fall – that you can go for a walk and find the Jack-in-the-Pulpit plants showing their berries!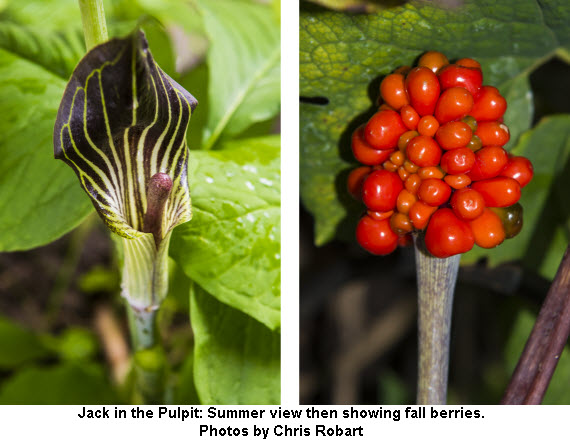 Jack-in-the-Pulpit does very well when the ground is wetter and with lots of leaf compost in a shady area. It combines very well with trilliums, ferns, and hostas as companions since they require the same conditions.
The plant is considered imperilled only at the western edge of its range in Manitoba. Although apparently secure, Jack-in-the-pulpit is facing increased threats from invasive species, such as garlic mustard and buckthorn, which are increasingly encroaching in Canada's eastern woodland habitats.

You can buy seedlings in the spring from various nurseries or as seeds from good seed houses. Once planted, it is a long-living perennial (25+ years) that will spread and colonize over time from an acidic corm.