Ransom Park, in the Richmond Hill Village Core, has become the home of Richmond Hil's tribute to Terry Fox.
This bronze statue stares out to Yonge Street, where he ran 40 years ago.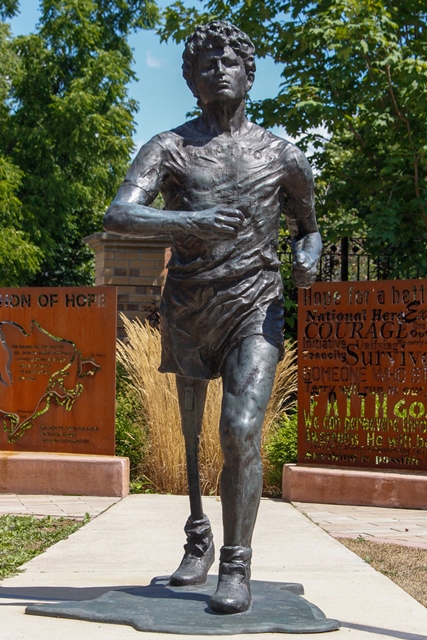 A metal ribbon winds through the concrete pathway in the park, representing Terry's planned journey from Newfoundland to British Columbia. The ribbon's appearance changes part way across the park, symbolizing the end of Terry's marathon in Thunder Bay.
Terry's route across Canada during the Marathon of Hope is etched in a steel wall and another wall has the words of Richmond Hill residents in response to the question "What does Terry Fox mean to you?"  


A vist to this tribute may evoke some positive vibes. 
Squeezed between two buildings, it is just a small park.  Four very long and comfortable benches would make it a good place to meet a friend and stay the 2 meters apart!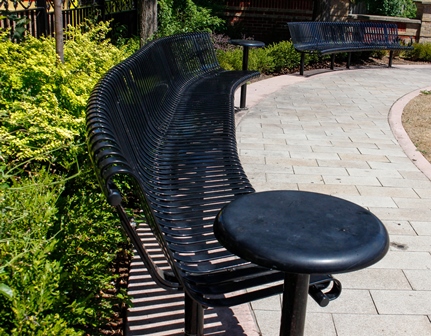 Take note of the details of the fencing.  Curious about Richmond Hill's history with roses?  Click here for an article in The Liberal a short time ago.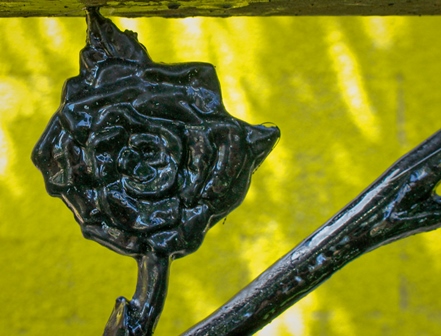 Public parking is right behind the park. 

The Terry Fox Run, always scheduled for the third Sunday in September, will be amended this year.  Terry is hoping that there are many generous donors. It is the 40th anniversary of Terry's Marathon of Hope!
~~~~~~~~~~~~~~~~~~~~~~~
This is the fourth "Let's Explore Richmond Hill" article. Previous suggestions for outside places to explore are:

The Peace Park 

David Dunlap Observatory Park