Submitted by Doreen Coyne, a member of the Richmond Hill Garden & Horticultural Society
It's that time of year that we get a new Richmond Hill Waste Management Guide in the mail.  When it arrives, I go through it and mark my pickup weeks for garbage pickup days, double garbage days, start and stop of lawn waste pickup, and of course, Christmas tree pickup dates.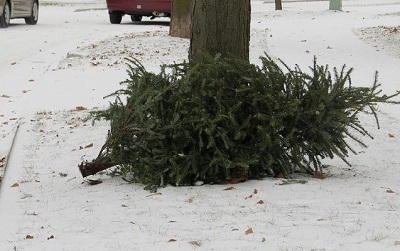 From the website and their handy guide, Christmas trees will be collected the weeks of January 3 and 10 in 2022 on your regular collection day of those weeks. There are some regulations on the tree before it can be picked up.
- Maximum height per tree is 2 metres (7 feet.)
- Remove all decorations and nails.
- Place the tree at the curb by 7 am. I'm not sure who they think wakes up that early just to put garbage out; but like us, they have hopes and dreams.
Note that if you do meet those criteria, it will not be picked up if your tree is left on top of a snowbank, stuffed in a bag, or frozen into the snow. Makes sense.
If you had an artificial tree that you no longer want, it can be donated to a thrift shop, taken to a waste depot (ex. Bloomington Yard Waste Depot) or left at your curb to be collected as a garbage item.
Last year we published an article on not throwing out your live tree; but rather, using the live tree to benefit nature throughout the winter in your backyard.  It was titled "Put Your Christmas Tree to Work this January" and written by Debbie Coleman. It's an interesting article read the full story.